Public transport card – The best way to travel in Rome!
The metro in Rome is 73 stations, 60 km of tracks and 770 000 passengers per day. The metro station "Metropolitana" has been in operation since 1955. It has three lines in operation: line A, line B and line C.
The Rome Metro is managed by the company ATAC S.P.A. which itself is administered and controlled by the Municipality of Rome.Line B is in the process of extension; line C, automatic, opened in November 2014 and is in the process of being extended; finally a line D is in project.
Rome's public transport also includes 3 surface railway lines and 8 regional railway lines (FL: Ferrovie Laziali) FL1 to FL8 serving mainly the Roman agglomeration managed by the Italian Railways Company (Trenitalia ). All these lines are used as part of a unified tariff package.
ROME METRO OVERVIEW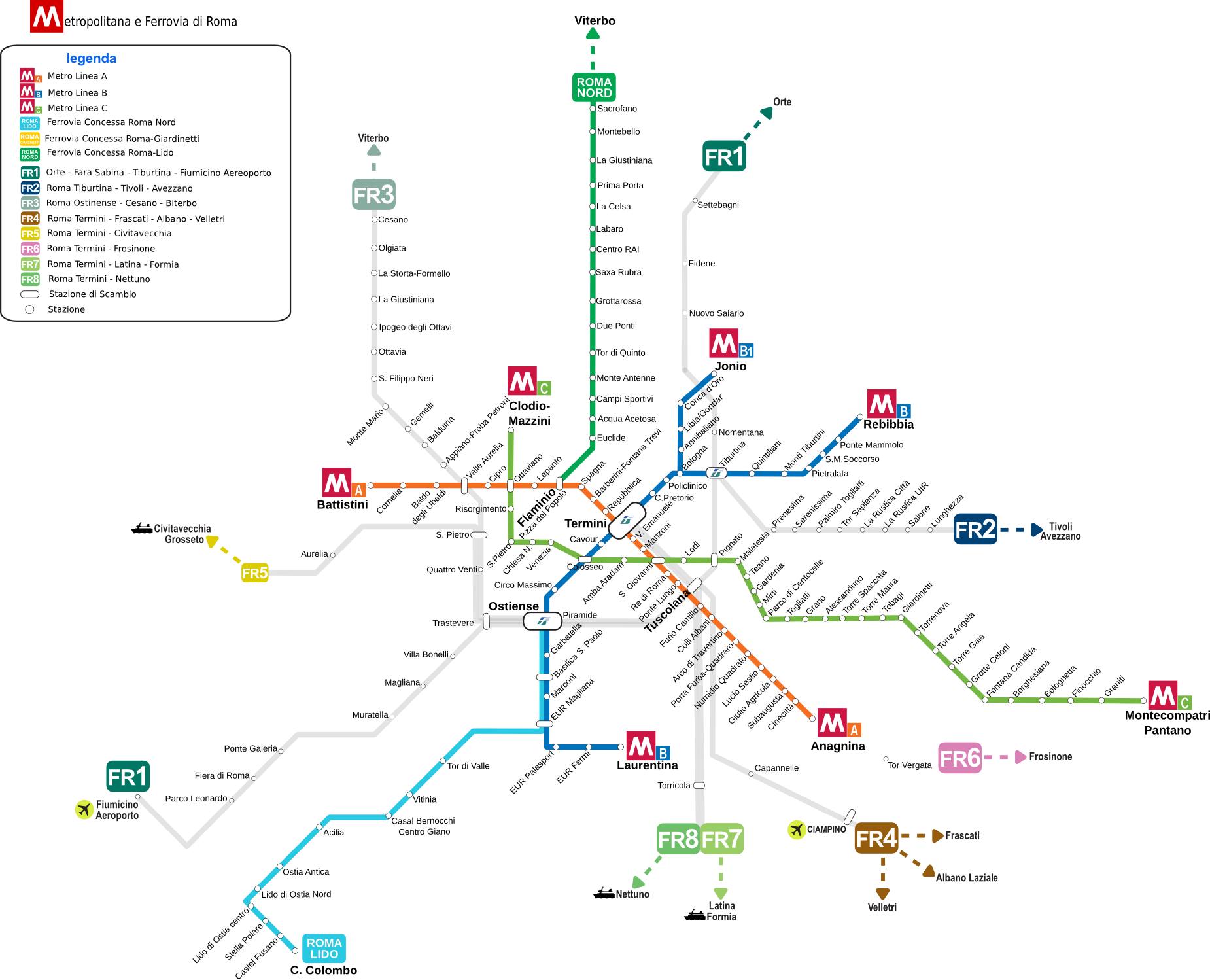 In the 1930s, the current government decided to begin work on the metro, with the primary objective of opening a rapid link between the Termini station and the new district planned for the 1942 World's Fair. never took place, because of the entry into the war of Italy in 1940. Some existing galleries became anti-aircraft shelters during the bombing.
Work resumed in 1948 and the first line was inaugurated by the President of the Republic Luigi Einaudi on February 9, 1955.
The idea was to develop a metro network similar to that of Paris or London, but countless causes (bureaucracy, disagreements over priorities, revisions of plans and continual archaeological discoveries) delayed development. It was not until 1959 that a law approved the construction of a second metro line, from Osteria del Curato (better known as Anagnina) to the Prati district, passing through the center of Rome. and crossing the already existing line at Termini Station.
Work began in 1964 in the Via Tuscolana area. They were weighed down by a series of delays and uncertainties, mainly due to poor organization. To begin with, it was originally planned to work in the open, but this way paralyzed so much traffic in the southeast area of ​​Rome that the work was stopped. They did not recover until five years later by digging tunnels. But even if the traffic was less disturbed, the induced vibrations caused serious damage to the buildings located near the route of work.
8 Comments